tyGraph for Viva Engage
Let Insights Drive Your Digital Employee Experience
Transform your Viva Engage (Yammer) network into a data-driven communication tool with tyGraph. Create impactful conversations and foster deeper engagement to reach a new level of digital workplace success.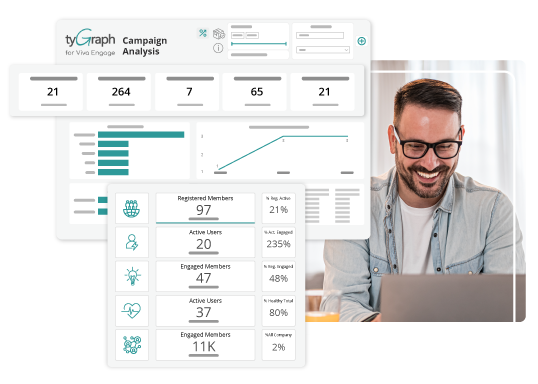 Insights for Your Employee Experience
Your people are at the heart of your digital workplace. Delivering a seamless, enhanced experience for them requires powerful insights to make the right decisions for your company. But how can you access these insights in today's rapidly evolving workplace?
With tyGraph for Viva Engage, measure internal discussions around your initiatives – where they're happening, who's participating, and how it's impacting your organization. Support your employee experience with insights to optimize employee communications and leverage the value of your network.
Rich Communication Analytics
Gather Viva Engage adoption, engagement signals from posts and cross-functional collaboration analytics in the context of your organization.
Collaboration Network
Uncover employee engagement across your communities of practice and assess the health of your network to improve its value.
Create Impactful Communications
Shape your future initiatives by understanding how employees perceive your content. With insights into topics of interest and employee sentiment, deliver relevant content that resonates with your audience and drives engagement.
The Surprising Link Between Employee Experience and Digital Workplace Success
Your digital workplace is only as strong as your people. That's why employee experience matters more than ever. With workforces becoming increasingly distributed, creating an engaging, productive, and innovative digital workplace is a top priority for organizations. By leveraging the right technology, you can take steps to not just improve your team's engagement – but so many other performance metrics that go hand in hand.

BLOG: 4 Ways to Improve Engagement of Disengaged Employees
Engaged Employees Drive Results
18%
increase in productivity
23%
increase in profitability
10%
increase in customer loyalty
How Our Analytics Do More
Investing in Microsoft Viva Engage (formerly Yammer) was a smart move, but to unlock its full potential, you need more employee experience data to make informed decisions. The limited retention and analytics in the native environment can only take you so far. With extended analytics from tyGraph, you can gather all the insights you need to achieve your comms goals.
Long range – Retain data for up to three years (compared to 28 days out-of-the-box) to analyze year-over-year insights
Network level analytics – Get a bird's-eye view of your entire collaboration network and compare analytics between internal communities to accurately define community success
Customization – Tailor your analytics experience by defining custom member lists to filter reports down to specific members' activities
User context – Map engagement at the org, department, and user level to understand what areas of the business are driving change
Rich user metadata - Segment your audience by thousands of possible parameters while also protecting PII
Hybrid and remote work are here to stay
Keep your team connected, no matter where they work
The world of work has changed, and to succeed in this new environment, it's essential to have a clear understanding of how your employees are utilizing your platforms and communication channels – and how you can improve that experience. That's where tyGraph comes in – our platform offers the insights you need to maximize the value of your Viva Engage, SharePoint intranet, and Teams platforms. In this on-demand webinar, you'll get the blueprint for modern workplace challenges like:
Evaluating the health of your communications and collaboration platforms
Understanding employee behavior across Teams and Viva Engage
Validating content and navigation choices
And more
Watch Now
FREE WEBINAR
Enhance Your Analytics to Drive SharePoint Intranet, Teams & Viva Engage (Yammer) Platforms Success
Take your employee experience to the next level
Turn your insights into strategy with tyGraph for Viva Engage