Policies for Microsoft 365
Manage Security for Teams, Exchange, SharePoint, and OneDrive
Easily enforce controls for sharing, permissions, membership, and configuration. All your workspaces, completely secure.
Automated security policy enforcement
Policies makes it easy to automate common rules for access, settings, and other configurations. Set white/black list policies, policies for external sharing, and more. When Policies catches configuration drift, notify and even revert the change automatically. Securing collaboration in Teams, Groups, Sites, and OneDrive has never been easier.
WATCH POLICIES IN ACTION
We see the solutions working when we get our monthly report. We don't have uncontrolled growth. We are saving money on storage and will continue to save as we grow bigger and the solution scales with us.
Microsoft made sharing easy. Policies keeps your sharing secure.
FIND & MONITOR

Monitor for configuration drift

Enable reporting over Microsoft Office 365 security

Policies helps you monitor and enforce compliance with Office 365 security and configuration rules and best practices. We keep admins focused on what matters. Proactively manage access, white/black list, sharing, and even version controls for your Teams, Groups, Sites, and OneDrives. You define the rules – and we'll do the rest.

What will you do with all that extra time?

Create rules that map to your business needs

Configure rules for access, sharing, tagging, versions, and more

Easily monitor rule, best practice, or policy compliance

AUTOMATE & ENFORCE

Automate M365 & O365 security and access policies

Revert configuration drift and security issues in near real-time.

Easily enforce security and compliance policies for permissions and access controls – including for external users. Automatically detect, notify, and revert configuration drift and security issues. Our data pulls directly from Microsoft 365 security, activity, and compliance feeds. So, we're not over-loading your tenant with crawls! That means policies for membership and access can be easily enforced as you grow.

Build policies based on insights and best practices to enforce your tenant guidelines

Revert or notify of configuration drift and security issues automatically

Built to scale – so you can get insights and apply batch fixes in record time

PROVE PROGRESS

Prove your outcomes in the Microsoft Cloud

Demonstrate the impact of automated security fixes

When paired with Insights, dashboards prove progress, so you can understand how well issues are being addressed. Demonstrate reduced risk for key stakeholders, to prove PI's value to the business.

Time-based security dashboards demonstrate business impact of administrative actions

Track your risk score over time to demonstrate your Microsoft 365 security posture

Centrally audit admin activity to track improvements across Teams, Groups, SharePoint, and OneDrive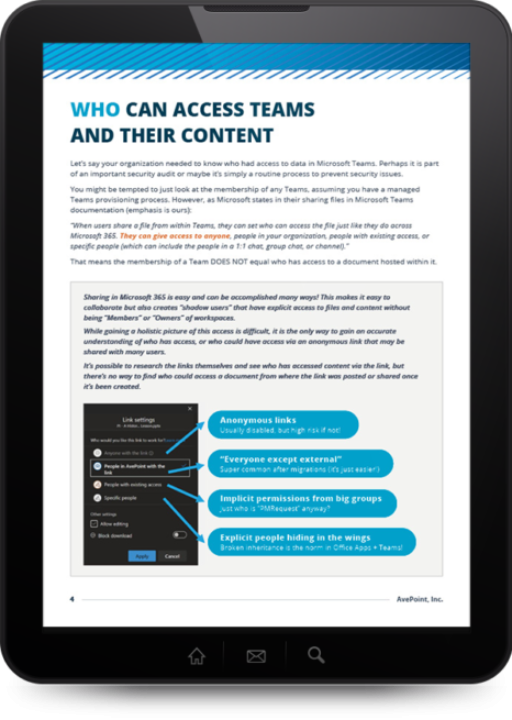 Automate and Enforce Data Protection in Microsoft Teams
Right-Sizing Teams Management and Security
When it comes to understanding potential data exposures, IT admins are weighed down by manual, time-consuming processes that don't even tell the full story. As Teams usage continues to rise, IT admins must have a deep understanding of their organization's data ecosystem. Find out how to identify risks and design a control plan to make Microsoft Teams smart, safe, and simple for your users.
GET THE EBOOK
What kinds of information exists in Teams?
Where does our sensitive data live?
Who can access the data (internal and external parties)?
Did they access it? And if so, when?
How are we enforcing Microsoft Teams security policies?
Giving organizations a common framework to keep collaboration secure
Drive IT Efficiency
For IT Directors
Built-in best practices and automated controls take the complexity out of configuration. Focus on higher-value projects while Policies takes care of the rest.
Reduce Risk
For Security Officers
Automation ensures consistent policy implementation. Get the insight you need, fast, to prove compliance with access rules and information barriers.
Increase ROI
For Business Owners
Improve productivity with the latest collaboration tools. Security features are baked in so you can focus on driving maximum business results.
The Power of AvePoint's Confidence Platform
Get Insights for Microsoft 365 to create better policies
Not sure which policies and rules make sense for you? Get Insights, and get the insight you need to build better policies. Insights uses Microsoft's own data, so we're not crawling Microsoft 365, or adding to your throttle concerns. We do the dirty work of combining, parsing, and prioritizing your potential issues – so you don't have to! How else will you know what rules are most critical? Admins can stay focused on what matters most.
LEARN MORE ABOUT AVEPOINT INSIGHTS FOR M365
DOWNLOADS & RESOURCES
AvePoint Policies vs. Microsoft 365
Learn how Policies enhances M365 Purview's native functionality.
FREE EBOOK
Right-Sizing Teams Management and Security
Identify risks and design a control plan to make Microsoft Teams smart, safe, and simple for your users.