Scale, Automate, & Secure
Accelerate Microsoft 365 adoption with automated service delivery
Give your users the Teams, Sites and Groups they need, when they need them, all backed by a sustainable, efficient and secure governance framework.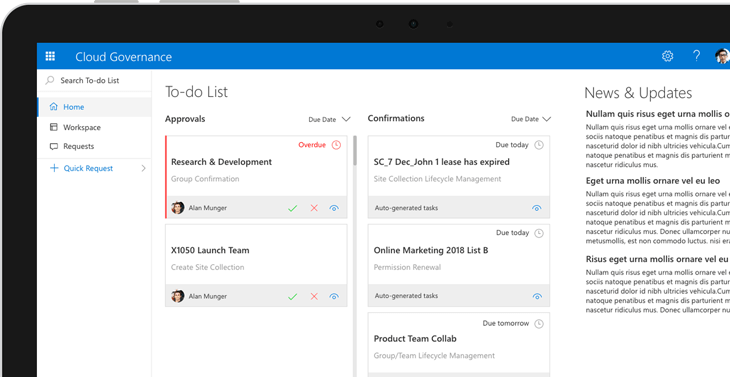 Basic solutions are ordinary. Governance with AvePoint is extraordinary.
To-do it all in Teams with MyHub
A convenient one-stop-shop for managing existing Microsoft 365 workspaces and creating new ones—all from Microsoft Teams! MyHub provides you with a centralized console and easy to use services. Organize, and easily understand the details of all your workspaces.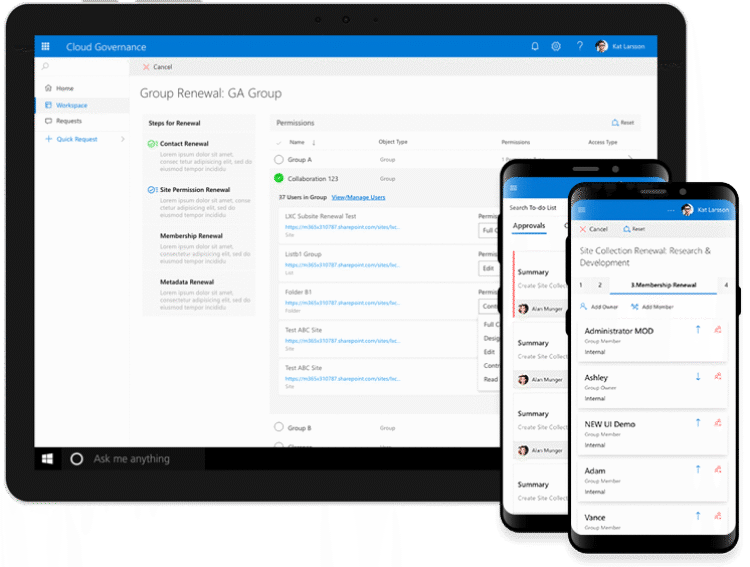 Supporting the latest in Microsoft Teams, Groups, and SharePoint Sites
We make it easy to import existing Microsoft Teams, Groups and SharePoint sites to automate service requests and management of content ownership, policies, and lifecycle according to evolving business needs.
Free eBook
The Value of Automated Office 365 & Microsoft Teams Governance
The MOST comprehensive resource on Microsoft 365 Governance
Cloud Governance Features
Service Catalogs
Deliver a wide range of governed services to users via a list of easy to understand options.
Questionnaires
Enable sustainable adoption and ensure usage is accurately catalogued by guiding your users.
Automated Policy Enforcement
Ensures user actions will not violate content and security rules by automatically reverting out of policy changes in Microsoft 365.
Conditional Approvals
Enable instant service delivery or allow organizations to deploy multi-stage and multi-user approvals for service requests.
Renewal and Recertification Processes
Ensure all relevant governance attributes of workspaces are kept current including context, members and owners of Microsoft 365 workspaces.
Automated Archiving and Deletion
Allows organizations to automate and record workspace disposition and provides processes to extend the life of content if needed.
Delegated Administration
Reduce burden on IT and scale management of Microsoft 365 by controlling who has administrative access to different sets of workspaces.
Activity Reporting
Automatic insights into usage and consumption of Microsoft 365 resources in a simple dashboard interface.
Auditing Reports
Create a catalogue of who did what when by automatically generating and managing audit reports for Microsoft 365 actions.
Security Reports
Simplify permissions and admin management by automatically surfacing who has access to what.
Collaboration Resource Inventories
Keep track of content by displaying metadata and contextual information for all workspaces in Microsoft 365.
Approval Process Reporting
Keep track of how well your teams are staying on top of service requests and gives insights into how users interact with Microsoft 365.
Lifecycle Status Reporting
Instant visibility into the relevance and age of workspaces, as well has how much your users are extending the life of their content.
"Create and Chase" Governance
Enhance existing Microsoft 365 management by applying your policies after the fact.
Actionable Insights
Enable admins and content owners to respond to needs and take actions right from within reports.
Lifecycle Management
Reduce clutter by pinpointing expiration and inactivity times for Microsoft 365 retention policies.
User Management
Simplify Microsoft 365 management in Microsoft 365 and Azure Active Directory.
Service Now Integration
Enable governed actions directly from Service Now for a consistent user experience.
DOWNLOADS & RESOURCES
HOW TO ENSURE OPERATIONAL GOVERNANCE FOR MICROSOFT 365 GROUPS:
Learn why organizations need to properly manage their Microsoft 365 Groups to avoid sprawl, manage permissions, and more! See the Webinar!
FREE EBOOK
The Value of Automated Office 365 & Microsoft Teams Governance
The MOST comprehensive resource on Microsoft 365 Governance
Absolutely free for 30 days.
Discover how you can empower your users and create a sustainable governance framework.