Cloud Backup for Salesforce®
Backup critical CRM data in your Salesforce cloud. Restore on-demand. Minimize data loss and downtime in case of user error or service outage.
Accidents Will Happen. Protect Your Business-Critical Data with our Salesforce Backup solution.
Data loss is a nightmare. Make sure it's secure with Cloud Backup for Salesforce. With one-click setup, automated daily backups, Microsoft Azure Encryption, and comprehensive restore options, sweet dreams are assured.
WATCH: How to Backup Salesforce with AvePoint
Worry-free protection
Once a day, automatic data backup with the ability to schedule more. Data protection and retention requirements are always met.
Comprehensive recovery
Access, search, and restore Salesforce data granularly or in bulk, at the organization, object, record, and field level.
Secure encryption
Salesforce data's safe in the cloud. Breaches and attacks are no match for Microsoft Azure Encryption plus user account security.
YOUR DATA, YOUR RESPONSIBILITY
Why do I need Salesforce backup?
You've invested in Salesforce…now you must protect your data. Even Salesforce says you need a backup solution to back it up. They offer weekly or monthly data exports depending on your license, but there is no longer a true native data protection service.

Recycle bin woes
Salesforce's recycle bin holds deleted data for 15 days. Recycle bin's full? Data's permanently deleted, and users can even empty their own recycle bin.

Pressed for time
You can manually export your data, but you have to keep track of everything, and there is no data recovery function after the fact.

Metadata's missing
Their manual export process doesn't include metadata…it only holds customer data. So, kiss your reports, configuration settings, and dashboards goodbye.

Partners encouraged
Salesforce strongly encourages you to protect data via a partner backup solution, like AvePoint, to run full reports and export them to your desktop.

Recovery isn't restoration
Salesforce replicates your live environment in real time, which means any records you've deleted—accidental or intentional—won't be restored.
Salesforce Native Data & Metadata Backup Protection
AvePoint Protection

Haven't you heard?

As of March 10, 2021, Salesforce has reinstated Data Recovery service.

However, there are some limitations so Salesforce now recommends reaching out to a third-party backup vendor like AvePoint to protect your data.

Automatic, daily, and comprehensive backup of data and metadata, or schedule it up to four times per day
Quickly restores data and metadata at organization, object, record, and field levels
Restoration of parent and child relationship records to ensure integrity
Out-of-place data restore with full fidelity and user mapping to any connected production or sandbox Salesforce organization
Central command dashboard to run an extra backup, view usage graphs, and audit user activities
Audit user actions, including login, backup, and restore
Automated alerts triggered when changes like updates or deletions are made in bulk
Recovery and Export based on search results that help you meet GDPR, CCPA, FOIA requirements
100% cloud hosted, no installation or configuration. Encrypted and secure data protection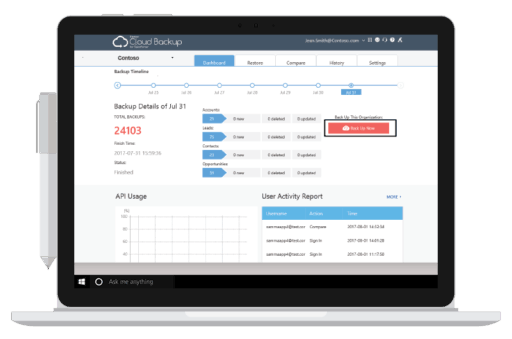 THE CLOUD COVERAGE YOU NEED
A Salesforce backup solution is insurance for your business
You wouldn't drive without insurance. Don't work without backup. With Cloud Backup for Salesforce, you'll be in the driver's seat when it comes time to perform or export a backup, create reports, restore, or secure new data—with just one click.
WATCH: How to Restore with AvePoint

Automated & ad-hoc
Prevent Salesforce data loss—back it up every day the AvePoint way. Automated or ad-hoc, it's up to you, schedule additional backups up to five times a day. All backup and restore data is stored securely in Microsoft Azure.

Compare backups
Comparison reports let you see how your Salesforce objects and metadata have changed between backups, and help locate the entity you must restore, when you need it.

Flexible granular restore
Recover an entire Salesforce organization, an object, a record, or even a single field. Find and locate all via keyword search.

Point-in-time restore
Roll back your records and entities to a specific point in time, letting you roll back and overwrite unintended changes or deletions.

Delegated, end-user restore
Admins can centrally control restore processes, or power users can get involved to recover a record, or a record's field(s) directly from Salesforce.

Status monitoring dashboard
Review Salesforce backup and recovery details, including records, time, and job status (of frequently used objects), like accounts, leads, contacts, and opportunities.

User activity auditing
Gain full visibility of how your Salesforce backup and restore service is being used, including login, backup, and restore.

Reporting & auditing
Gain insight into Salesforce backups, restored data, run extra backups, view API usage, graphs, and user activity, and make audits.

Scale & security of the AvePoint Cloud
Hyperscale plus 256-bit encryption protects organizations of any size.

Sandbox creation
Build your Salesforce sandbox environment with realistic but anonymized customer data to create a true proving ground for new add-on solutions.
DOWNLOADS & RESOURCES
Salesforce Encourages Third-Party Backup Solutions
Check out 5 Ways AvePoint Protects your Critical Salesforce Data. Continue Reading
 FREE EBOOK
How and Why to Backup Your Office 365 Tenant
A guide on how the surge in remote work has made backing up Office 365 more important than ever.
Boost your cloud confidence
Exceed expectations with Cloud Backup for Salesforce