AvePoint Cloud Backup Express for Microsoft 365
Powered by Microsoft 365 Backup Storage, enable secure data protection for OneDrive, SharePoint, and Exchange at greater speed.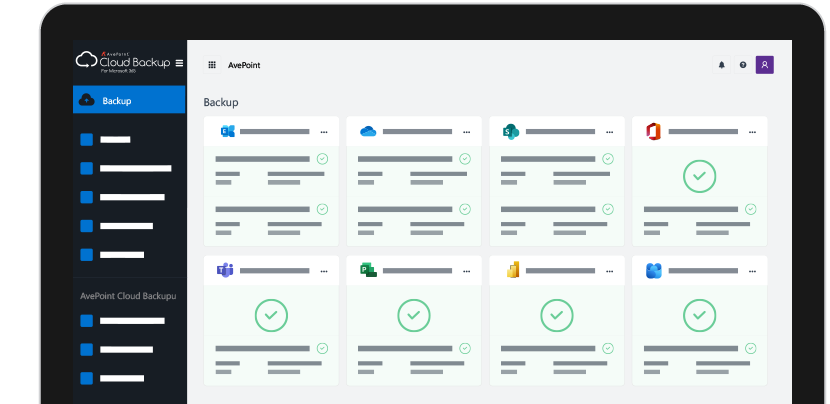 Accelerate Microsoft 365 Business Continuity
Data-driven and AI-driven businesses need to manage data growth securely and efficiently. Traditional methods are not effective at scale. AvePoint Cloud Backup Express, powered by Microsoft 365 Backup Storage, offers flexible, secure collaboration in the digital workplace.

Secure, Resilient Microsoft 365 Data Protection
With 82% of IT Leaders already worried their existing data protection solutions aren't ready for the future, don't get left behind. AvePoint Cloud Backup Express, powered by Microsoft 365 Backup Storage, enhances business continuity by enabling you to protect and secure your SharePoint, OneDrive, and Exchange investments with greater speed and scale.
Fast and scalable
Whether you're backing up 100TBs of data or restoring 10,000 mailboxes, AvePoint Cloud Backup Express has you covered. Protect and restore your SharePoint sites, Exchange mailboxes and OneDrives with no limits.
Rapid business continuity
Achieve unprecedented speeds to provide more effective RPO and RTO times while keeping all data within the Microsoft 365 security boundary powered by Microsoft 365 Backup Storage.
Comprehensive multi-SaaS protection
Combine lightning fast RPO/RTOs with enterprise grade compliance and security benefits of AvePoint's multi-SaaS backup solution, for a complete approach to protect and secure data.
The ease of using Cloud Backup and lack of maintenance is first rate. It's much smoother with AvePoint compared to our previous approach.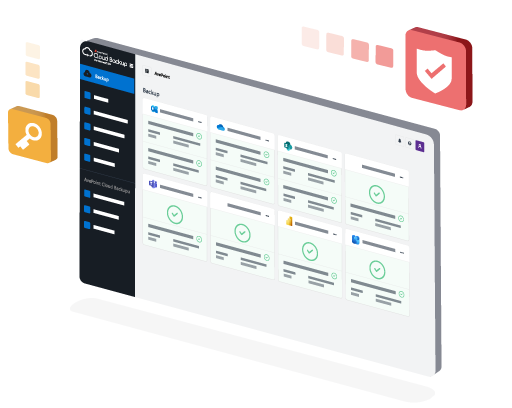 Secure Data Protection for Microsoft 365
Combine rapid, unlimited backups with intelligent recovery capabilities to minimize business disruption and restore data quickly in the event of ransomware, data corruption, or other threats.
Near-Zero Configuration
Seamlessly add-on Microsoft 365 Backup Storage protection to AvePoint Cloud Backup without changing your existing data protection policies and benefits.
Reduce Business Disruption
Improve RPOs and RTOs - recover or rollback entire Site Collections, OneDrives or Exchange Mailboxes in minutes, even in the event of ransomware or other data loss incidents.
Intelligent Recovery
Select the right version of data to restore regardless of whether it resides in Microsoft 365 Backup Storage, AvePoint-managed storage, or customer-managed storage.
Holistic Microsoft Cloud Protection
Extend secure protection for the entire Microsoft Cloud, including Teams, Planner, Entra ID, Viva Engage, Azure, Dynamics 365, and more.
Powered by Microsoft 365 Backup Storage
AvePoint is among the first companies to feature advanced in-product integrations with Microsoft 365 Backup Storage. With this incredible backup technology we are able to bridge the gap between the power and flexibility of SaaS with the demanding RPO/RTO timelines users traditionally expected to only achieve in on-premises or full control workloads.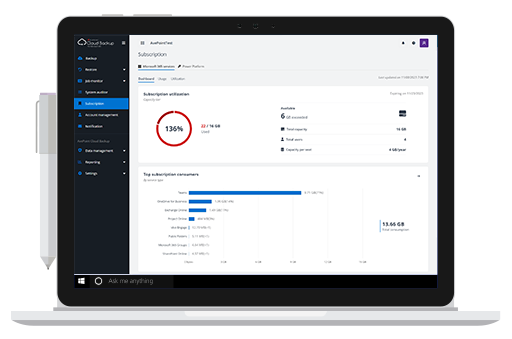 Secure, Multi-Cloud Data Protection
The dependence on multiple SaaS applications to power hybrid work continues to grow, which is leading organizations to adopt a cloud-centric data protection strategy with AvePoint's multi-SaaS cloud backup solution.
Comprehensive Multi-SaaS Protection
Studies show relying on a single vendor for multi-SaaS backup lowers cyberattack and data loss risk by 44%. AvePoint provides comprehensive protection for Microsoft AWS, Salesforce, and Google from one platform, enabling organizations to own SLAs, recover quickly, and maintain storage flexibility.
Fully Control Data Ownership
When storing data in the cloud, you share compliance responsibility with your backup provider. AvePoint helps meet evolving requirements across backups and production systems. For example, AvePoint's 15 global data centers enable geographic data residency and sovereignty as well as support BYOS and BYOK.
Empower Users with Self-Service
AvePoint's self-service capabilities let users quickly restore their own lost content across workloads without involving IT. For example, with one click, AvePoint ReCenter enables self-service file, folder, email, and more recovery. This minimizes user disruption while freeing IT from manual restores.
Fast, Flexible Protection for Microsoft 365
Quickly back up entire Microsoft 365 workloads while keeping data within the Microsoft trust boundary. Restore or roll back entire OneDrives, mailboxes, or SharePoint sites in minutes.
High Speed Backup and Recovery for Microsoft 365 data in OneDrive, SharePoint Online and Exchange Online
Perform backups of entire containers/workloads in minutes
Keep all data within the Microsoft 365 Boundary
Restore or Rollback an entire OneDrive, Mailbox or Site Collection
Perform Granular Item level recovery from a backup
Ransomware and Suspicious Activities detection
End user Self-Service Recovery with ReCenter
DOWNLOADS & RESOURCES
Discover Why and How the BaaS Landscape is Changing
The need for Backup as a Service in 2023 is greater than ever before with a steady increase in ransomware attacks and a larger need for companies to protect data in SaaS applications.
Accelerate Secure, Rapid Business Continuity
with AvePoint Cloud Backup Express