Cloud Backup for Power Platform
Protect the insights, apps, and automation that drives your business.
Don't risk shutting down critical business operations – backup and recover your Power BI workspaces, Power apps, and flows.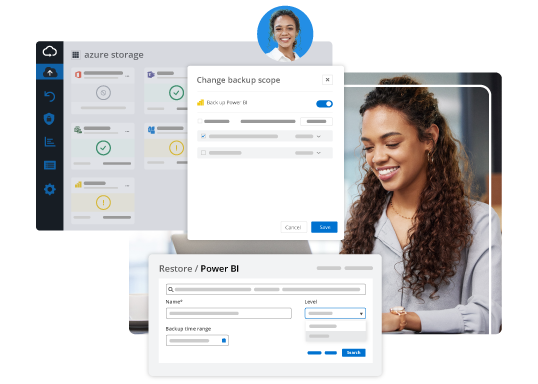 How do you safeguard your Power Platform business solutions?
Your team has built reports, automation and apps to create agility and efficiency. Now it's time to assure your organization that it can bounce back quickly if it disappears because of user error, bad actors, or an outage. Protect your critical data and information from fiascos.
OnDemand Webinar: Watch Us Lose Data: Power Platform Edition
Cloud Backup for Power BI Workspaces
Protect Your Data-Driven Culture with Backup for Power BI workspaces
Every day organizations make thousands of decisions based on the insights and analytics that surfaced Power BI. Ensure the data will be there tomorrow with backup and recovery.
Thru Cloud Backup, choose which objects to backup and set time constraints that align with your disposal strategy. With unlimited automated backups in AvePoint's Azure storage or your own cloud, access on-demand, granular, item-level restore that will keep your organization moving.
Cloud Backup for Power Apps & Power Automate
Foster innovation. Protect developers across the entire organization.
Access to data is the rocket fuel for growth. You empower teams to develop tools to increase agility and solve for the tough challenges across your organization. How are you protecting, monitoring and reporting on the growing collection of low-code apps and workflows?
The team at AvePoint is solving for the next frontier of business solutions. Our next round of backup solutions are dedicated to Power Platform.
Power Apps and Power Automate transform efficiency by empowering teams to streamline repetitive tasks and optimize business processes. Enable your team to focus their attention where it's needed most. With Cloud Backup for Power Platform, you can support them to ensure they get back to work faster.
Better Together. Microsoft Office 365 & Power BI Backup.
Protect Critical Cloud Services
Microsoft Office 365 covers service disruptions, but good luck recovering lost, deleted, or corrupt content, especially past recycle bin or backup windows! Cloud Backup makes the best of a worst-case scenario. Whether it's user error, an outage, or a ransomware attack—we've got your back(up).
Video: Microsoft Office 365 Backup
DOWNLOADS & RESOURCES
Discover why and how the BaaS landscape is changing.
The need for Backup as a Service in 2023 is greater than ever before with a steady increase in ransomware attacks and a larger need for companies to protect data in SaaS applications. Read the 2023 Gartner® Market Guide for Backup as a Service, and find out why AvePoint was recognized as a Representative Vendor.
FREE WEBINAR
Watch Us Lose Data: Power Platform Edition