AvePoint Opus - Next-Level Information Lifecycle
Powered by Advanced AI
Good business is based on good information. AvePoint Opus is the better decision for the next generation of information lifecycle solutions allowing you to have complete control from creation, to archive or defensible disposal, all through a central interface.
Don't just manage your information, command it.
Organizations worldwide have moved to the cloud in pursuit of digital collaboration, IT agility, and on-the-go access. But the digital workplace inherently leads to content sprawl, which brings with it greater exposure to risk, increased compliance challenges, and rising storage costs. No matter where you are in your journey to the cloud, a comprehensive information management strategy, including automatic data classification powered by AI, is critical to achieving operational efficiency and compliance.

WATCH: The Invisible Super Hero
Capture
View and manage a SharePoint environment to find out what you've got, where it is, who has access, and the risk level.
Manage
Oversee your information outcomes, report on all actions performed, and manage a classification scheme or taxonomy.
Dispose
Manage information lifecycles and associate outcomes with business rules to remove, retain, archive or destroy content.
COMPLIANCE MADE EASY
AvePoint Opus is built with your legislative and regulatory compliance standards in mind
Whether you need to follow standards published by the National Archives of Australia, Archives New Zealand, US National Archives and Records Administration (NARA), or National Archives of Singapore, Cloud Records is built to assist you in complying with many standards globally.
CASE STUDY: Cardinia Shire Council
Information Security Registered Assessors Program (IRAP) (AUS)
We have had our AOS platform IRAP assessed including Clour Records to a protected level making it easier for departments to onboard their solutions with confidence that they meet a high-security standard.
FedRAMP (moderate) Authorized (US)
U.S. public sector entities that are in a Microsoft GCC or GCC-High instance can take advantage of our FedRAMP (moderate) Authorized solutions including Cloud Records.
Victorian Electronic Records Strategy (VERS)(AUS)
The Public Office of Victoria (PROV) has certified that government agencies and enterprise customers alike can leverage Cloud Records and has deemed it a VERS compliant solution.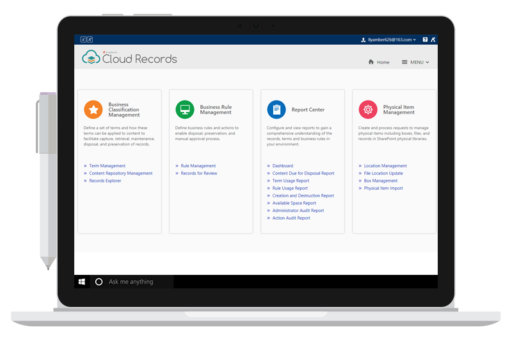 YOUR RECORDS, RULED
Manage information lifecycles not end users
Apply automated business rules to manage your Microsoft Office 365 content, Exchange Online, file systems, and physical records—from creation, to classification, and retention—to achieve compliance without user intervention. Maintain oversight with built-in reporting and auditing, all from our SaaS application.
One interface for all
Configure and manage classification schemes, retention and disposal rules, reporting, and physical records.
Flexible rules
Apply rules to content—either ad-hoc or automatically—using any combination of metadata to drive lifecycle actions and outcomes.
Fast insights access
Proactively monitor user actions with out-of-the-box reporting, and interrogate audit trails.
Let's get physical
Manage physical records alongside your electronic Microsoft Office 365 content. Make requests, keep track, and react.
Management dashboard
Get quick answers to top-of-mind questions through a graphical dashboard that's designed for Records Managers.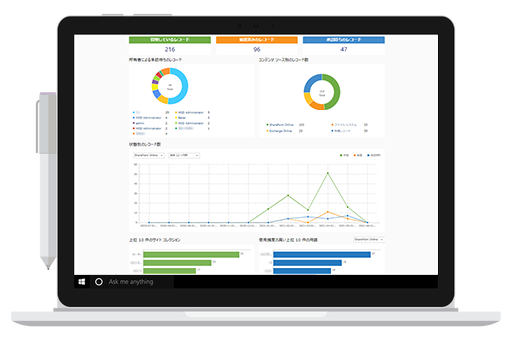 SIMPLICITY FOR ALL
Ease the Microsoft Office 365 workload for your records manager
Provide your Records Managers an intuitive, fit-for-purpose, single-pane-of-glass interface to do their jobs. AvePoint Opus brings order to SharePoint Online and Exchange Online while removing the burden of traditional records management.
Content Classification
Manage a classification scheme or file plan, or apply multiple rules to a single classification and set term expiration.
Taxonomy Management
View settings, choose to apply an entire term set, subset of a term or set, or default term to a Microsoft Office 365 location.
Retention & disposal
Build business rules to manage an information lifecycle. Use action or date-based triggers or metadata to drive rules.
Choose your rule
Delete, retain, declare, or export content based on business rules. Configurable rules will automatically react.
Reporting
Records Managers will be able to proactively manage information outcomes with comprehensive out-of-the-box reporting.
Audit records actions
Interrogate audit trails of actions performed on an item, or by a specific user to ensure and document record integrity.
Physical records
Request existing files or create new ones. Maintain oversight and perform space management activities with reporting.
Data Visualization
View reports through a dashboard that displays number of managed items, destroyed records, outstanding tasks, and more.
DOWNLOADS & RESOURCES
AvePoint Cloud Records vs Microsoft 365 Native Functionality
Learn how Cloud Records enhances M365 native functionality. Continue Reading
FREE EBOOK
Microsoft 365 Records Management Roadmap
What information managers can expect during digital transformation
Just for the record...
AvePoint Opus is the best