Microsoft 365 Records Management Roadmap
What information managers can expect during digital transformation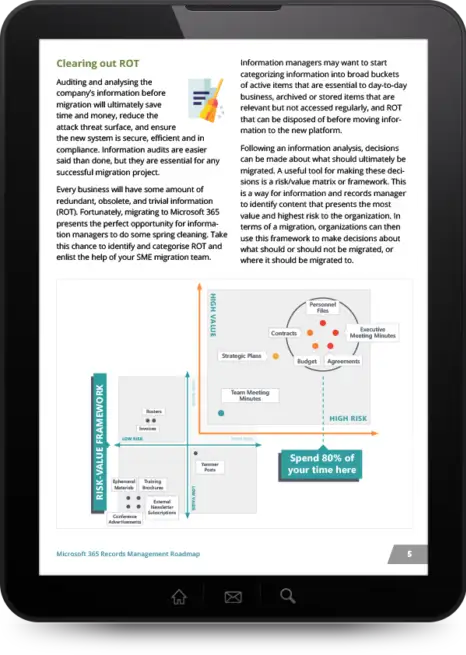 Maintain governance and record integrity during a digital transformation.
The COVID-19 pandemic put a spotlight on the need for businesses to rethink their approach to flexible, remote, collaborative ways of working leveraging cloud-based services. While the world adjusts to new digital ways of working, information and records managers are no exception. Records management practices need to evolve with today's digital transformation trends.
This eBook will dive into planning for, executing, and managing a migration to a digitally centered Microsoft 365 records management system. Learn how to navigate common records compliance requirements, create retention and disposal schedules, and ensure secure information management.
Featuring case studies of real-world Microsoft 365 records management initiatives:
Cancer Council NSW Moves 20 Years of Records From HP TRIM to SharePoint Online, Manages Them With Cloud Records
Devonport City Council Implements Cloud Records to Maintain True Compliance & Simplify Workflows
Cardinia Shire Council Targets 100 Percent Record Retention & Compliance with Cloud Records
Table of Contents
Chapter 1: Records Management and Digital Transformation
Chapter 2: Migration and Records Management in Microsoft 365
Chapter 3: Governance and Records Management in Microsoft 365
Chapter 4: Managing Records in Microsoft 365
Chapter 5: Additional Resources
Get a Sneak Peek
Auditing and analyzing the company's information before migration will ultimately save time and money, reduce the attack threat surface, and ensure the new system is secure, efficient and in compliance. Information audits are easier said than done, but they are essential for any successful migration project. (Pg. 5)
Users need to feel empowered and free to work the way they need to within Office 365, so establishing a user-centric governance framework early on can help keep information protected and manageable. (Pg. 9)
Once an information architecture has been established, it is important for information and records managers to consider how to prevent sprawl and maintain consistency for users across the Microsoft 365 platform. Microsoft 365's collaboration and workspace features are important for bringing virtual teams together seamlessly and empowering users to work in productive and intuitive ways. (Pgs. 10-11)
AvePoint Cloud Records enables information managers to define the appropriate term in a file plan or classification scheme and apply them to content. This means information is automatically designated for capture, retrieval, maintenance, disposal and preservation of records in Office 365 from a single interface. (Pg. 22)