AIIM 2022 State of the Intelligent Information Management Industry
Combining independent research, data trends, and actionable takeaways.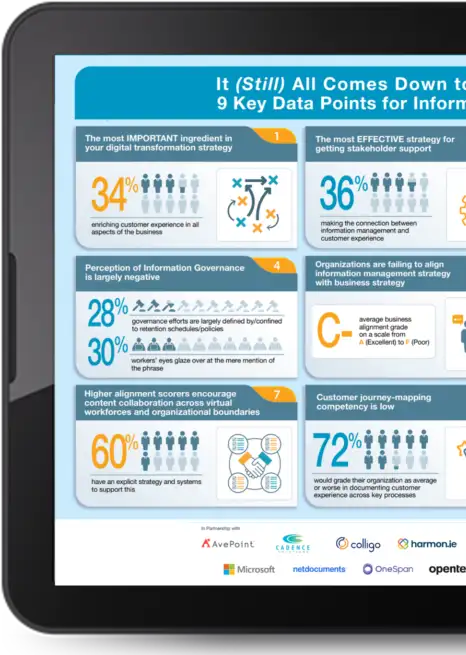 What's essential for managing information in 2022? A singular focus on the customer.
The IIM practice and all the disciplines that comprise it have never been more important – but not for the reasons that some in our profession espouse. Despite a universal acknowledgement of the importance of digital transformation and the customer experience aspect thereof, our information management approaches don't always lend themselves to support this single most important transformation driver.
Dive into the current state of information management within organizations, based on research conducted in February 2022, with 265 decision-makers drawn from the AIIM community:

Mindsets and methodologies centered on risk, compliance, and governance for governance's sake, only water the seeds of discontent when it comes to business executives and their business users.
Companies seeing improvement in the alignment of their IM strategies with their business strategies have purposefully focused on the needs and expectations of the customer, both internal and external.
They realized alignment in incremental ways beginning with mapping key customer touch points to identify process improvement opportunities.
They serve their internal customers by ensuring that the information needed to perform work is accurate and accessible.
And, they have become more data literate, to help the business extract meaning from myriad data sources.
Table of Contents
2021 – A Wake-Up Call for Organization Leaders
Finding 1 – The Spirit is Willing, but the Flesh is Weak
Finding 2 – An Information Management Program Focused Primarily on Risk/Regulations/Compliance Fails to Move the Needle in the Right Direction
Finding 3 – Leveraging Information for Improved Customer Experience Is the Mantra for those Organizations Reporting Improved Information Management/Business Alignment
Finding 4 – Information Access, Process Automation, and Data Extraction/Analysis Are the Most Effective Customer-centric IIM Capabilities Used to Achieve Information Management/Business Alignment
Conclusion
9 Key Data Points for Information Managers
Take a sneak peek:
Even the rising scope of privacy and security concerns have failed to change the perception that information governance practices lack the ability to influence decisions around data-first and customer-first strategies over the long term. When this group was asked about executive opinion on the motivating drivers behind data privacy efforts, the lower scorers pointed to the risk of noncompliance with new regulations. The higher scoring group said that their executives – known for playing the "negative lottery" – are, in reality, driven by the potential for reputational damage and loss of customer loyalty. (p. 19)
Despite a universal acknowledgement of the importance of digital transformation and the customer experience aspect thereof, our information management approaches don't always lend themselves to support the single most important transformation driver. The research shows that mindsets and methodologies centered on risk, compliance, and governance for governance's sake, only water the seeds of discontent when it comes to business executives and business users. One could say that by speaking the language of doubt, risk, and noncompliance, customer experience is the last thing being improved. (p. 26)