Microsoft 365 Archiving
Optimize Cloud Storage & Manage Information Lifecycles
Reduce storage costs and improve data quality and information management in Microsoft 365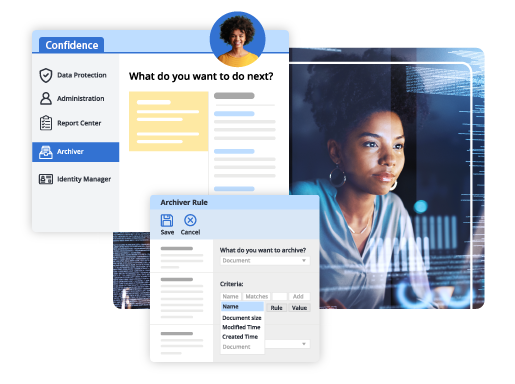 Intelligent Microsoft 365 Archiving
Combat rising cloud storage costs and information overload

The cloud is the defacto place to work. Collaboration, file and document storage, and even records management have shifted to Microsoft 365.
The problem? All your videos, images, and other large files (and their versions!) can easily over-run your SharePoint and content storage allowance. Microsoft has started charging for storage overages, so now is the time to get your files in check to avoid an unexpected bill. Plus, all that content makes it harder for users to find what they need.
Intelligent archiving can move data to lower cost cloud storage, improve data quality, and ensure compliance.
The Benefits of Microsoft 365 Archiving
Save on Microsoft 365 storage costs
Reduce cloud storage overages by removing large media files or stale content from your Microsoft 365 sites and content stores
Manage information lifecycle
Create storage tiers to move content based on time or metadata-based triggers to keep active workspaces clean and uncluttered
Support records management
Create term stores, apply classification, and implement file plans. Store and archive content in encrypted, compliant, and exportable formats
IMPROVE DATA QUALITY, REDUCE STORAGE COSTS
Automate content retention in Microsoft 365
Apply lifecycle management policies to Microsoft 365 content. Use business rules and filters to move content to lower cost storage, remove and delete content, or retain immutable, read-only copies.
Archive content to save on your next monthly bill, or enable defensible disposition. Maintain comprehensive audit trails of content that has been archived, declared a record, moved, or deleted.
RECOVER ANYTIME, ANYWHERE
Swift, simple and on-demand restore
Restore archived content any time you want, back to Microsoft 365 SharePoint Online, Groups, and OneDrive for Business with metadata, workflows, and permissions intact.
Easily browse for content to restore based on its original Microsoft 365 location, or using advanced search and filter conditions.
BRIDGE THE TECHNOLOGY & BUSINESS DIVIDE
Value just for YOU
Reduce storage costs & optimize cloud infrastructure
For M365 Services Owners and Infrastructure Leads
Combat rising cloud storage costs as your cloud footprint grows. Easily implement automated, hierarchical storage management across your cloud infrastructure.
Improved user experience
For End Users
Automatically filter unused or outdated content and sites to improve data quality, search results, and overall user experience.
Intelligent Archiving & Recovery Features
Granular or site-level archiving
Archive content from Microsoft 365 SharePoint Online, Group, or Team sites and OneDrive for Business.
Business rules and filters
Archive M365 content based content type, owner, last modified date and time, last accessed time, file size, parent list type ID, parent folder name, or custom metadata fields.
High fidelity archiving
Archive site collections, sites, lists, libraries, folders, apps, items, document versions or attachments. Keep metadata, workflow state, and permissions in-tact.
Records management integration
Identify and declare records, including the ability to remove or maintain a read-only copy of content in-place.
Flexible online storage
Store in Microsoft Azure, Amazon S3, Rackspace, IBM Tivoli Storage Manager (TSM), NetApp AltaVault, Box, and Dropbox, and SFTP or FTP locations.
Hierarchical storage management
Align one or more cloud storage systems to support a cost effective storage hierarchy.
Retention policies
Preserve or delete content in compliance with information management policies, or to move stale content to cheaper storage.
On-demand restore
Granularly restore archived content back to Microsoft 365 sites across SharePoint, Teams, and Groups, or OneDrive for Business.
Export into compliant formats
Export archives in multiple formats, including VEO, for regulatory compliance.
Archive to Thrive with Microsoft 365
Save costs, improve experiences, and ensure compliance.