GroupHub: better together
GroupHub is where users go to find, search through, and access the Office 365 Groups they need, when they need them, in just two clicks. We grant admins powerful Group management tools, so they can effectively oversee and bring order to Groups. More control. Less chaos.

Drive user productivity
Users can easily see and organize the Groups they own, or have membership to, and quickly navigate to content they need.

Expert Office 365 Groups management
Administrators get powerful management tools to manage Group membership, resources, content, and more.

Advanced governance
Access policy-driven services for provisioning, classification, and lifecycle management via Cloud Governance integration.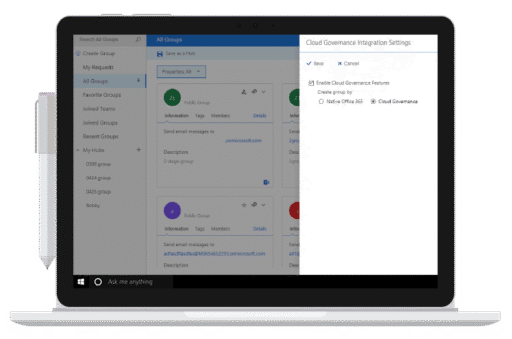 GroupHub is powered by AvePoint Cloud
No more Groups on the loose
Office 365 Groups are powerful, but time spent searching for the right groups and content can impact adoption and productivity. That's why we created AvePoint GroupHub—to simplify the Groups experience—ultimately making everyone's life easier, and more productive.

Groups, all together
Users can create new groups, navigate through existing ones, and access group details, resources, and memberships.

Simplified searching
Tag groups with labels and create filtered hubs of groups based on purpose or importance. Less searching, more working.

Pre-filtered, for you
Built-in views let users jump to favored groups, member groups, ones they'd like to join, and those recently accessed.

Power minus the shell
Admins get a simple interface to configure group management settings without the need for complex PowerShell operations.

Next-level governance
Integration with Cloud Governance ensures Groups are provisioned, classified, and expired according to policies.
Groups here. Groups there. Groups everywhere!

Keep calm and GroupHub on.
Create an account / Sign in
The AvePoint Portal is your centralized hub for all things AvePoint!
User guides
Release notes
Webinars
Videos
Create your account
Already have an account? Sign in
Get Started Today
Our experts are on it! We'll be in touch shortly to get you set up.