Having trouble managing Groups in your organization? Check out our free webinar "How to Ensure Operational Governance for Office 365 Groups" for expert advice. Watch here!
---
Read the rest of our Microsoft Ignite 2019 coverage:
During his session at Microsoft Ignite 2019, Microsoft Regional Director and MVP Dux Raymond Sy made it clear that we aren't talking about diversity and inclusion in the workplace as much as we should be. Today, we have five generations in the workplace:
Traditionalists (1924 – 1945)
Baby Boomers (1946 – 1965)
Gen X (1966 – 1985)
Millennials / Gen Y (1986 – 1996)
Gen Z (1997 – 2020)
It often seems like there's a war between the different generations with all their various stereotypes. But if you buy into that, it becomes difficult to encourage inclusion and generational diversity, which is essential.
If your organization is inclusive it develops a culture of belonging that can attract top talent, help with retention, facilitate growth, and create a workplace where people can thrive. All in all, an inclusive organization is more capable of growing and competing.
In the modern workplace, it's important to put together an engagement strategy for these different generations. Dux laid out five very practical steps every organization can take to effectively maximize generational diversity in the workplace.
Step 1: Play to Generational Strengths
How do people want to be recognized? How are they motivated? How do they handle change?
These aspects of generations are fundamental, but leaders often don't take them into consideration. Leaders play checkers instead of chess; they treat every piece the same when each is actually unique with different strengths. There's no "one size fits all."
Know the generational strengths and how to best utilize them in your workplace!
Need help with handling generational diversity in your org? This post has some good tips:
Click To Tweet
Step 2: Facilitate Effective Communication
Communication is not just the act of talking or speaking but also the act of working together. The way we communicate is different for every generation, so don't simply assume that everyone is on the same page.
Dux emphasized the importance of establishing guidelines within your organization on how to communicate. Whether it's Outlook, Yammer, or Microsoft Teams, making sure people know what to use when is a must.
Another important aspect of communication is feedback. You have to know how to give feedback according to how each person's generation prefers to receive it. For example, boomers typically want annual reviews with documentation and detailed meetings, but millennials often want immediate, frequent feedback. Dux stressed that you should give feedback because you believe in the person, not to vent at them.
This research done by Avanade shows what generations prefer in terms of feedback:
Step 3: Meet People in their Onlyness
Once you can zero in on people's strengths and tailor communication to generations, it's very important to go a level deeper. You have to meet people in their onlyness.
What is "onlyness" you may ask?
Onlyness is a term coined by Nilofer Merchant, and it signifies that "each of us stands in a spot in the world only you stand in, a function of your history and experience, visions and hopes."
It means that people are to take what's phenomenal about them and contribute it to the world and to their work. But for that to be effective in the workplace, it requires empathy and curiosity.
The internet can often negatively influence our views of the different generations, but when we meet people in their onlyness, we find understanding. Dux offered a great example here: Know that entitled millennial who has the guts to ask for a raise after six months on the job? Well, did you know that millennials have the most debt compared to any generation before?
Once we meet people in their onlyness we no longer see them as generations but as people.
Step 4: Be Willing to Teach & Learn
When we think about teaching and learning, we often think about it in a formal setting such as a classroom. In reality, however, you learn the most from the people you interact with. It could be your coworker or the person you carpool with; every single minute is an opportunity to teach and learn.
Dux described his secret to teaching and learning quite simply: just ask. Be curious. Your questions can be as simple as "What did you learn at Ignite last week?" or "Can you tell me about what you're working on?" This way, knowledge gets passed down within the organization.
An important aspect of learning is to have a growth mindset, which involves allowing people to fail and encouraging them to learn from it if they do.
Step 5: Practice humility
C.S. Lewis once said you will know the humble man not because he thinks he's humble, as "He will not be thinking about humility: he will not be thinking about himself at all." The humble man thinks about others and wants to know them with joyful curiosity.
We see the world through our own lenses. Dux encouraged viewers to look at the world through other people's lenses. You don't always have to agree with their viewpoint; humility allows you to share experiences, talk about them, and simply watch with joyful curiosity.
What does this look like in the workplace?
In the workplace, this might look like being intentional and present when doing a one-on-one with a peer. Set your phone aside and put your computer down. This way, you're respecting their time and showing curiosity for what they do.
Humility doesn't call us to be meek or consider ourselves as lower than others; it's a hunger for abundance. The greater our humility, the greater our fascination with the world.
Diversity is being invited to the party and inclusion is being asked to dance. Check out the full dance video here!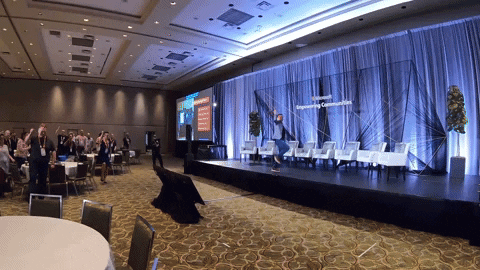 ---