Drive Impact with Insights, No Matter Your Role
SEE ADOPTION, SENTIMENT & ENGAGEMENT
ANSWER THE CRITICAL QUESTIONS
Enable central insights over M365 users & data
Real-time insights help you track activity and data, so you can easily understand user, departmental, or regional levels of technology adoption, sentiment, and engagement. Help data owners understand popular content, and transformation owners know if they're on track.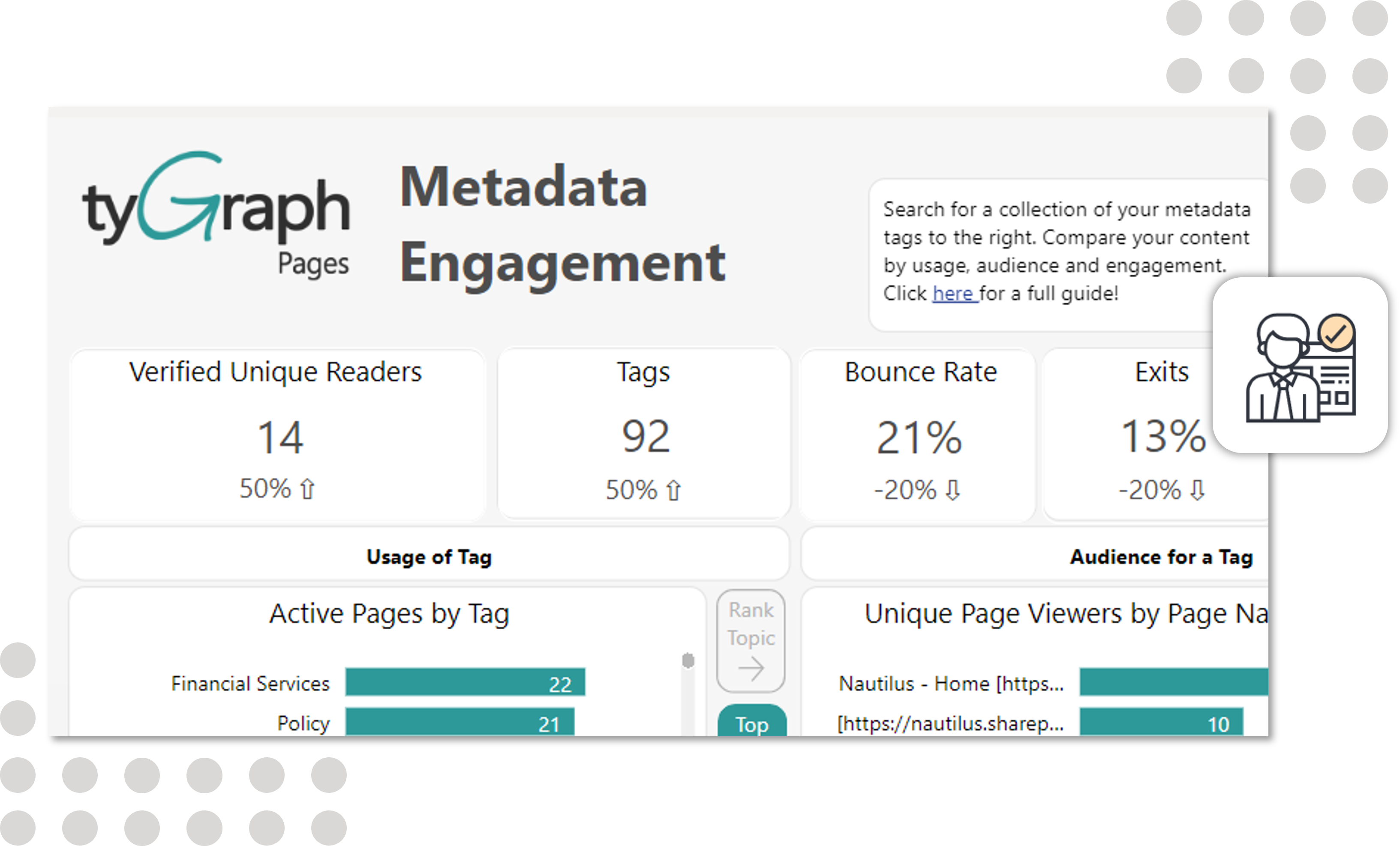 Easily identify popular users and content so you know where to start for any further change-management and enablement programs
Get the Microsoft 365 insight you need, fast, with tenant-wide insights
Empower key roles and people to monitor data and users critical to them, over time
GET ACTIONABLE INSIGHTS
FAST-TRACK BETTER DECISIONS
Guide Data Owners, People Leaders, and Communications Teams in their roles
Enable your insights to tell a story. Understand if your site or content is being used and how. What's trending, popular, or no longer useful? How engaged are your employees? Did the latest internal announcement reach critical team members? By understanding the answers to these critical questions, you can take action where it has the most impact.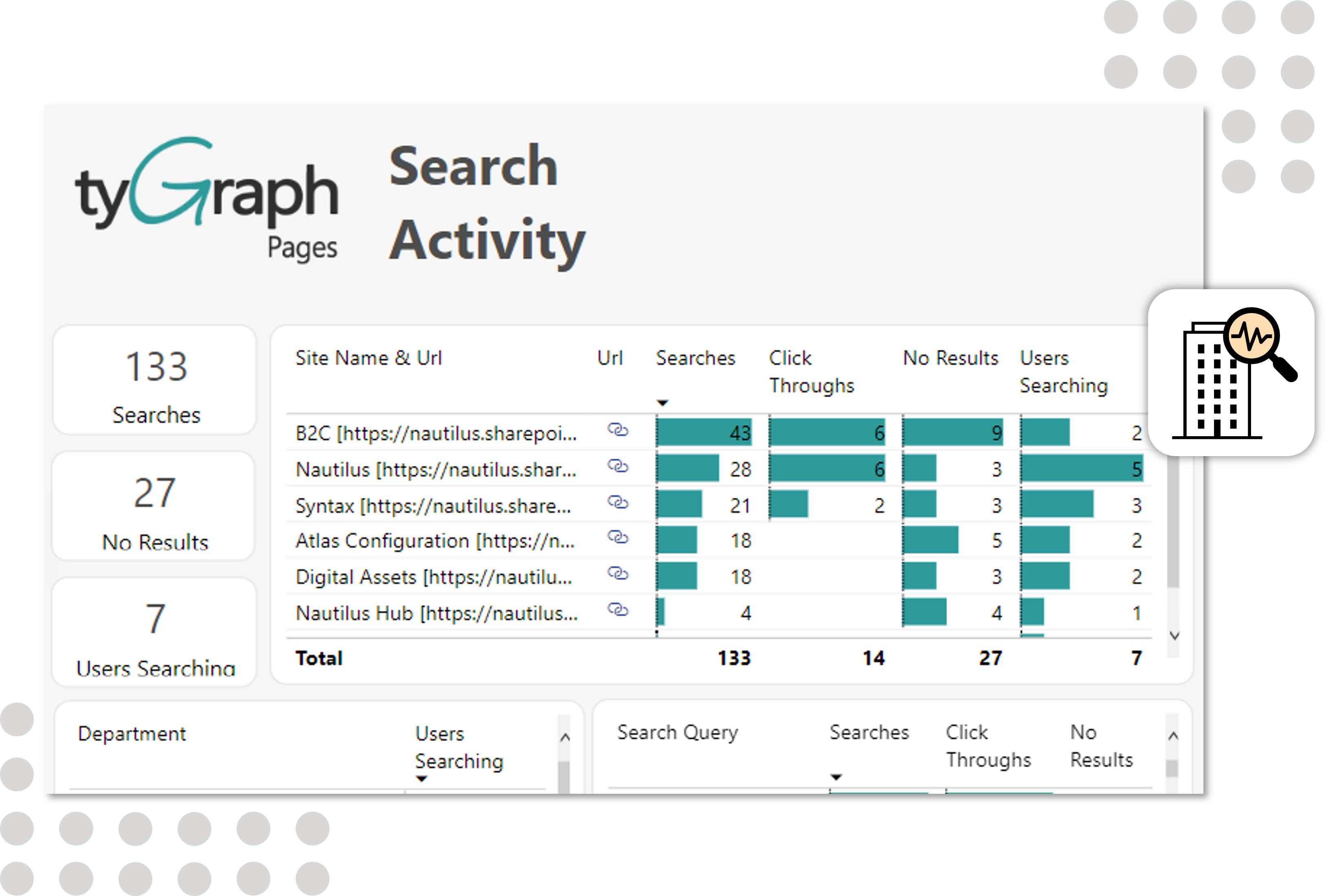 Prioritize enablement and training for user groups based on technology adoption insights
Know if you have an engagement problem well ahead of your next People Team or HR survey, and validate the results of more formal feedback mechanisms
Identify change-leaders and critical users to target with communications based on information flow and their network
PROVE OUTCOMES
PROVE VALUE, ROI, AND IMPACT IN MICROSOFT
Demonstrate the impact of communications, technology enablement, and adoption programs
Your digital transformation scorecard is at your fingertips. Dashboards prove progress, so you can understand how well users are changing behavior, using their cloud services, and connecting with one another.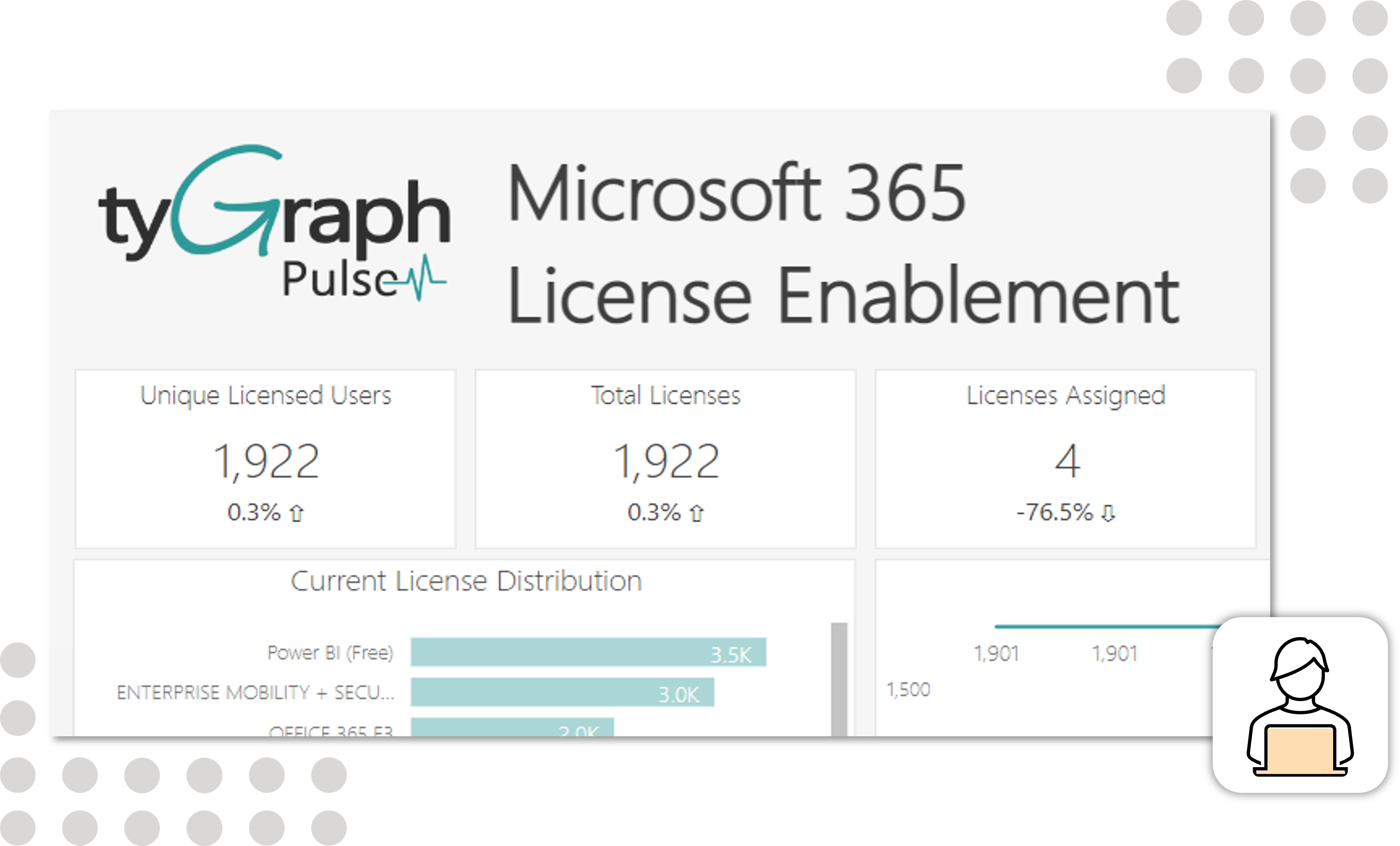 Visualize the impact of your adoption programs with your digital transformation scorecard
See how announcements and information flow through the organization to measure the impact of internal comms
Adjust engagement and enablement programs to optimize the employee experience based on their interactions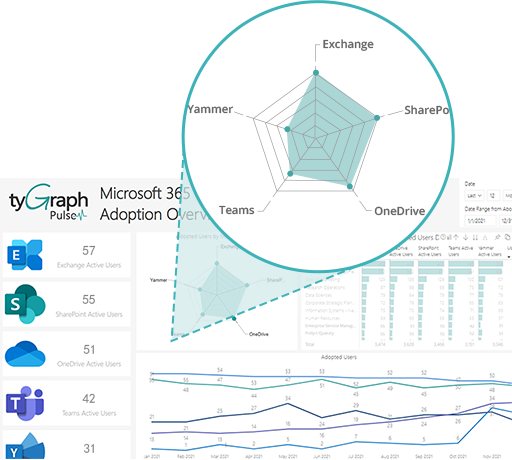 Optimize Adoption & Transformation Initiatives
For Organizational Change Management Leaders
Capture metrics for employee and collaboration networks as well as technology adoption. Illustrate the impact of your changes—whether tenant consolidation or technology training—as they're rolled out.
Maximize adoption by tracking engagement across applications. Identify users who are likely to adopt or even those who have regressed, then take steps to re-engage with them.
SEE IT IN ACTION: DIGITAL TRANSFORMATION INSIGHTS
UPGRADE USER SKILLS WITH M365 TRAINING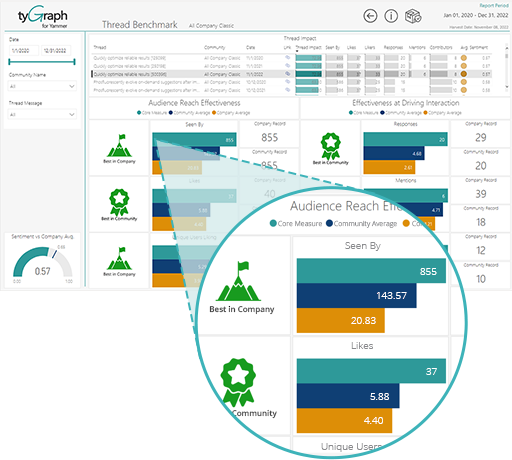 Measure the Impact of Internal Communications
For Communications and Marketing Teams
As users struggle to keep up with emails, notifications, and alerts, it can be difficult to ensure that your internal communications are cutting through the noise and reaching their intended audience.
Visualize how your message is moving through your organization, including who it's reaching, how they're reacting, and which channels they're engaging with. From there, you can refine your messaging, revive existing communication channels, and implement strategies that increase engagement and extend your reach.
TAKE A CLOSER LOOK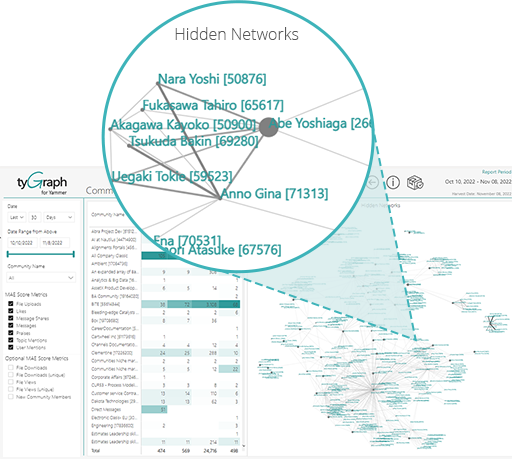 Keep a Pulse on Employee Sentiment & DEI Initiatives
For People and Human Resources Leaders
With your workforce distributed across homes, offices, and regions, there's a disconnect between employees and leadership. Managers can't rely on water cooler chats to keep an ear to the ground in the modern workplace. How can you find out how employees are feeling without launching disruptive surveys and waiting months between review cycles? How are your Diversity, Equity, and Inclusion efforts progressing?
Monitor user sentiment and engagement in real-time to design better programs to keep your best assets—your people—engaged and retained.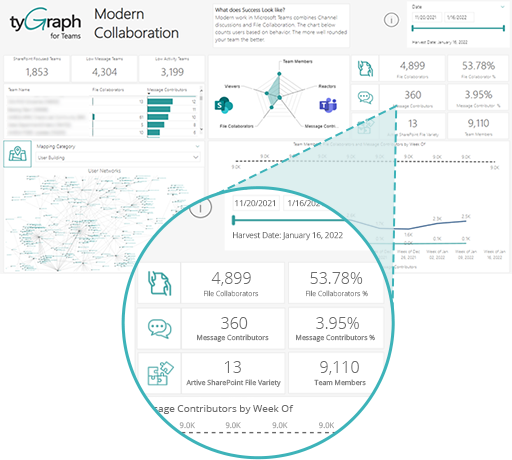 Demonstrate Value & Return on Investment
For Shared Services and Data Owners
After months of jumping through hoops with Budgeting and Procurement, the last thing you want is for your new IT purchase to fall flat. But evaluating the return on your Workspace or overall IT investment goes beyond simply running the numbers.

Track user activity against existing KPIs. See whether employees are using their licenses to the fullest. Track your digital transformation score over time by evaluating engagement and productivity across Microsoft apps.
SEE IT IN ACTION: TRANSFORMATION SCORECARD
The Power of AvePoint's Confidence Platform
Get Confidence to Put Your Insights to Work
tyGraph supports millions of global users with analytics to drive evidence-based decision-making and optimize performance. Now, paired with AvePoint's powerful Confidence Platform, organizations have both the critical insights to establish best practices and make better decisions, but also the powerful capabilities to act on these insights, to secure collaboration, in a way that's scalable and enforceable so collaboration stays safe over time. The result is improved information flow and sustainable technology adoption.
LEARN MORE ABOUT AVEPOINT CONFIDENCE TODAY
DOWNLOADS & RESOURCES
O365 Hours: What is tyGraph?
Check out our chat with tyGraph's co-founder.
FREE EBOOK
How to Justify Your Microsoft 365 Investment
Using Data to Prove Value and Bolster Performance