User, Data, and Security Insights for Microsoft 365
Data you need. Decisions you can trust.
Visualize technology adoption, employee engagement, and collaboration security. Get to know your users, their favorite content, and more. Monitor sharing and permissions so you can track usage and secure Microsoft 365 adoption and ROI.
More insightful & logical
Tap into the wealth of user activity, content, and storage data collected by the Microsoft Office Graph to know the who, what, and where of your Microsoft 365 deployment. Get insights, so you can empower users and surface content that helps drive adoption and usage.

User Insights & Workforce Analytics
Identify power users, including top content consumers, contributors, and authors by site or across the entire deployment.
MEET TYGRAPH
Security Insights & Permissions Reporting
Understand which content is relevant and resonating. Find where the top content lives, and which documents are most active.
MEET INSIGHTS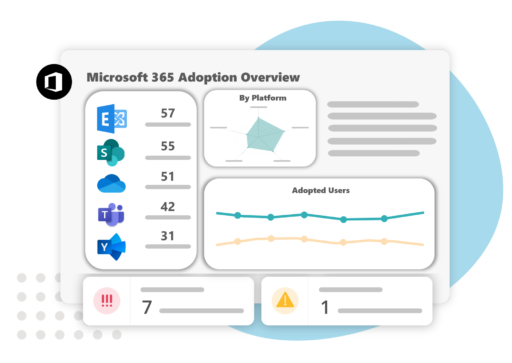 Intelligent, actionable workplace analytics and user insights
Visualize the human connections, actions, and productivity that drive your organization. Easy-to-use reports and Power BI dashboards give administrators and content owners access to the intelligence they need to make more informed resource allocation arrangements and data management decisions.

LEARN MORE ABOUT EMPLOYEE EXPERIENCE ANALYTICS
Assess content
Understand where, when, and which content is most active by tracking its download, edit, view, delete, and access. Track storage growth over time.
Monitor usage
Discover who your top content consumers, contributors, and authors are by site, or across your entire deployment.
Site analytics
Find out how users access sites, and which sites have the most activity based on source and site's traffic flow.
Real-time security, sharing, and permissions reporting prioritized for action
Easily monitor Office 365 permissions with tenant-wide security reports across your Microsoft cloud services. But how do you know if there's an issue? We aggregate sensitivity and activity data across your tenant, so your critical permissions issues are prioritized for action. Then, you can edit in bulk from actionable reports. It's security reporting, transformed.
LEARN MORE ABOUT SECURITY INSIGHTS
START YOUR FREE TRIAL OF INSIGHTS FOR M365
FREE EBOOK
Right-Sizing Teams Management and Security
Identify risks and design a control plan to make Microsoft Teams smart, safe, and simple for your users.
Gut feelings aren't always correct.
Get the inside scoop on your people and your security permissions with AvePoint's comprehensive insights