AvePoint Media Contact
Nicole Caci
Tel: +1 201-201-8143
Email: nicole.caci@avepoint.com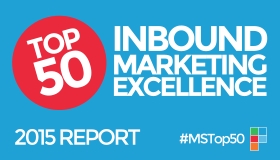 AvePoint Named to Top 50 Office 365 and SharePoint Product Vendors for Inbound Marketing Excellence
AvePoint ranked in the top five for its effectiveness in online marketing initiatives including website layout, company blog, and Twitter presence
Jersey City, New Jersey — November 18, 2015— AvePoint, the established leader in enabling enterprise collaboration across platforms and devices, announced today it has been named to Fifty Five and Five's "Top 50 in Inbound Marketing Excellence" report for Office 365 and SharePoint Product Vendors. AvePoint ranked #4 overall as well as #2 for top Twitter presence among fellow product vendors.
The report, created and distributed by the digital marketing company Fifty Five and Five, shares insights, inspiration, as well as innovative practices and tips for marketers working within the Microsoft partner network. The focus of the report is on partners who build add-ins, tools, and applications to enhance SharePoint and Office 365.
"It is an honor for AvePoint to be ranked as a top vendor for inbound marketing excellence," said Jeffrey Pease, Chief Marketing Officer, AvePoint. "As we continue to deliver industry-leading Office 365 and SharePoint management solutions, online marketing is crucial to engaging the thriving Microsoft technology community. I'd like to congratulate AvePoint's entire global marketing team on this accomplishment."
The independent report includes detailed comment on the efforts of all partners' websites, blogs, and social media presence in order to determine how well they are attracting and engaging audiences with their online content. Fifty Five and Five cites AvePoint's easy-to-navigate, cleanly designed website with a strong sense of style as a large contributor to the company's high ranking.
"This report is a testament to the hard work of the team at AvePoint and they should be duly proud of their achievements," said Chris Wright, founder of Fifty Five and Five.
To view the entire "Top 50 in Inbound Marketing Excellence" list, please visit the Fifty Five and Five website.

About AvePoint
Collaborate with Confidence: AvePoint provides the most advanced platform to optimize SaaS operations and secure collaboration.
Over 17,000 customers worldwide rely on our solutions to modernize the digital workplace across Microsoft, Google, Salesforce and other collaboration environments.
AvePoint's global channel partner program includes over 3,500 managed service providers, value added resellers and systems integrators, with our solutions available in more than 100 cloud marketplaces. To learn more, visit https://www.avepoint.com/au.
About Fifty Five and Five
Based in London, UK, Fifty Five and Five is a digital marketing agency born out of a recognition that Microsoft partners face a unique set of challenges when it comes to B2B marketing. They help Microsoft partners communicate more effectively, reach new audiences, and drive leads.
All product and company names herein may be trademarks of their registered owners.