AvePoint Media Contact
Nicole Caci
Tel: +1 201-201-8143
Email: nicole.caci@avepoint.com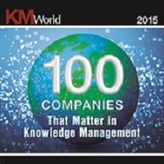 AvePoint Named to KMWorld Magazine's
Annual list highlights companies whose unwavering commitment to knowledge management enhances productivity while meeting the customized business needs of organizations worldwide
Jersey City, New Jersey — February 25, 2015 — AvePoint, the established leader in enabling enterprise collaboration across platforms and devices, today announced that it has been named to KMWorld magazine's "100 Companies That Matter in Knowledge Management" in 2015 for the sixth consecutive year.
Now in its 15th year, the KMWorld "100 Companies That Matter in Knowledge Management" list is compiled by knowledge management practitioners, theorists, analysts, vendors, customers, and colleagues. Those selected for the list are recognized for showing an unwavering commitment to delivering world-class technology that meets business needs of organizations worldwide.
"The criteria for inclusion on the list vary, but each of those listed have things in common," said Hugh McKellar, KMWorld Editor-in-Chief. "Each has either helped to create a market, redefine it, enhance, or extend it. They all share a fundamental motivation to innovatively meet and anticipate the widely diverse needs of customers with robust solutions to meet evolving customer requirements challenges."
Since 2001, AvePoint has helped more than 13,000 organizations and more than 17,000 customers worldwide enable enterprise collaboration. With robust management, governance, and compliance capabilities, as well as global 24/7 live support, AvePoint is first to market with a unique solution that centralizes access and control of information assets residing in disparate collaboration and document management systems on premises and in the cloud.
"AvePoint is honored to be identified by KMWorld as a leader among knowledge management solution providers for the sixth consecutive year," said Dr. Tianyi (TJ) Jiang, Co-CEO and Co-Founder of AvePoint. "As enterprises evolve to accommodate collaboration trends such as cloud computing, social networking, and mobile workforces, we're here to ease the transition – no matter what platforms or devices they use."

About AvePoint
Collaborate with Confidence: AvePoint provides the most advanced platform to optimize SaaS operations and secure collaboration.
Over 17,000 customers worldwide rely on our solutions to modernize the digital workplace across Microsoft, Google, Salesforce and other collaboration environments.
AvePoint's global channel partner program includes over 3,500 managed service providers, value added resellers and systems integrators, with our solutions available in more than 100 cloud marketplaces. To learn more, visit https://www.avepoint.com/au.
About KMWorld
KMWorld is the leading information provider serving the Knowledge Management systems market and covers the latest in Content, Document, and Knowledge Management, informing more than 30,000 subscribers about the components and processes – and subsequent success stories – that together offer solutions for improving business performance. KMWorld is a publishing unit of Information Today, Inc.
All product and company names herein may be trademarks of their registered owners.