Power Platform Governance:
How to Scale and Transform Your Management for Sustainable Adoption
Uncover best practices for secure and sustainable Power Platform implementation.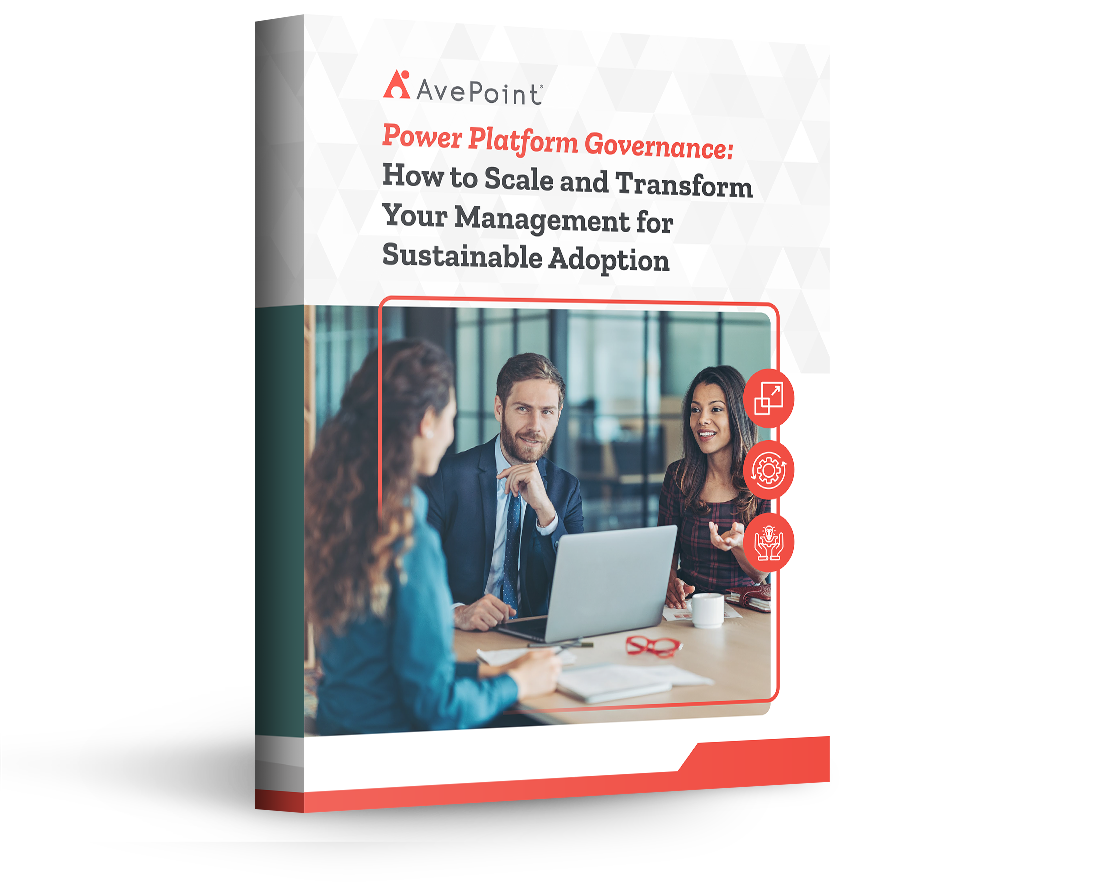 Unleash the transformative potential of Power Platform
By 2024, automation is expected to reduce organisations' operational costs by 30% and play a pivotal role in driving operational excellence in the digital-first era, according to Gartner. Low-code and no-code tools like Microsoft Power Platform are making this vision possible today.
But to unlock the full potential of Power Platform, organisations must scale their management and drive sustainable adoption. A five-time Microsoft Partner of the Year, AvePoint created a best practices guide for effective Power Platform governance – so you can enable transformative impact for the entire organisation.
In this eBook, you'll learn how to:
Get started on Power Platform
Overcome challenges in managing Power Platform
Use best practices for scaling Power Platform management
Explore solutions that can transform your Power Platform governance
Download your complimentary copy of this eBook now to learn how to fully unleash the transformative potential of Power Platform for your organisation!
Table Of Contents
Introduction
Getting Started with Power Platform: What You Need to Know
5 Best Practices for Power Platform Management
Scale and Transform Power Platform Management with AvePoint
Conclusion
Sneak Peek:
Introduction
For Microsoft users, Power Platform provides the technology needed to enable automation that's already well-integrated with Microsoft 365 collaboration tools. True to the promise of scaling without additional headcount, Microsoft Power Platform empowers citizen development – making digital impact more attainable to business users.
This power doesn't come without risks, but with the right partner and solutions, you can safely and securely take advantage of all the platform has to offer.
Get Started with Power Platform – The Right Way 
To achieve long-term adoption in your Power Platform investment, you must set solid foundations to scale sustainably and avoid wasting all your time, money, and effort spent empowering your citizen developers.
Scaling Power Platform
Maintaining a flexible and secure Power Platform landscape for your users — both citizen developers and pro developers alike — can be tricky. As your adoption matures, you will encounter more complex challenges that will require valuable time and effort to address.
By consistently following best practices with the help of advanced tools that simplify the protection, migration, management, and governance of your Power Platform environment, scaling Power Platform successfully can be an attainable feat.
Transform Power Platform Management with AvePoint
With AvePoint, you gain the confidence to scale and succeed in Power Platform. Discover AvePoint's Power Platform solutions:
AvePoint EnPower
Cloud Backup
Fly
Ready to transform your business with Power Platform? Download the eBook today to get started.