Maximizing Your SaaS Potential:
SaaS Management Best Practices for Managing, Protecting, and Scaling in Microsoft 365 and Power Platform
Discover better multi-SaaS management practices to improve your SaaS operations and create a safer and more secure digital workplace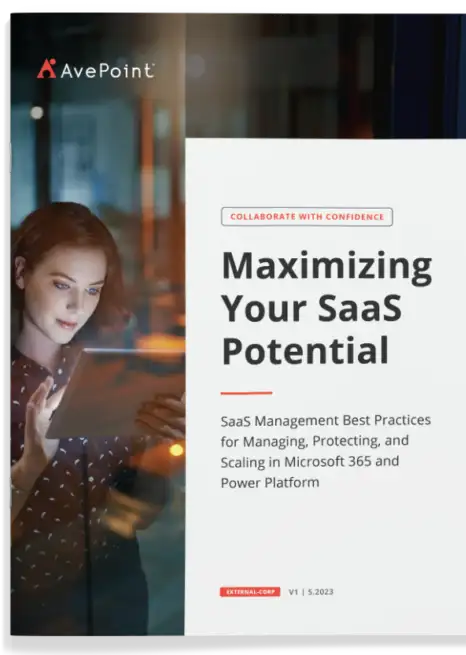 Ready for an easier way to manage your multi-SaaS applications?
According to Gartner, the average business maintains 125 SaaS applications. Many organizations are struggling to keep up with this snowballing tech stack, juggling multiple subscriptions and licenses while worrying about the security and compliance risks of all these applications.
At AvePoint, we understand the challenges that come with managing multi-SaaS applications. That's why we've put together this guide to showcase the value of better SaaS management as well as give you best practices and solutions to enhance your SaaS operations, making it easier to manage your organization's portfolio.
In this guide, we'll cover strategies to:
Extend your IT team's bandwidth by sharing the management burden
Identify opportunities to consolidate and optimize your SaaS investments
Streamline access, permissions, and lifecycle management
Implement controls that guide users to best practices
Monitor activity and access to advance your security settings
With better SaaS management practices, you can ensure your applications are not only available, secure, and cost-effective, but that your team can use them to their full potential, maximizing your investment and driving performances and profits for your organization.
Download this free eBook to start maximizing your SaaS potential today.
Introduction
What is SaaS Management
SaaS Management Made Easy: Your 5-Step Blueprint for Success
Checklist to Ace SaaS Management
Conclusion
Sneak Peek Snippets
The value of better SaaS management
Proper SaaS management has so many perks – such as process simplification and tool optimization – that can be realized quickly. However, the true value lies in the long-term benefits: sustainable scalability, maximized investments and future-proofed digital workspaces. By effectively managing your SaaS environment, you can ensure that your organization is equipped to adapt to changing and growing business needs and technological advancements, leading to continued success and growth over time.
Drive innovation with delegated administration
For example, as part of your application lifecycle management in Power Apps, it's a best practice to follow a three-environment strategy:
build an app in a sandbox environment;
trial it in a test environment; and
deploy it in production environment.
Empower your end users without sacrificing control
Allow your end users to create their own workspaces but require them to complete a questionnaire during provisioning, identifying the purpose and intended membership to ensure the appropriate policies are applied. An example of a right-sized policy and appropriate permission management: if your user indicates their workspace will be used for sensitive information, prohibit the space from being public and require verification before any external user is added as a member.
Advanced security monitoring protects your software investments
Things like accidental oversharing, misconfigured permissions, or unmonitored external users can easily sneak past your policies and be a real threat to your security. Unfortunately, your IT can't constantly watch for missteps like this, particularly across hundreds of applications and workspaces. That's why you need to scale your security by going beyond policies and procedures, monitoring for risks in your environment and taking action quickly to remediate them.
Make it easy to manage your SaaS operations. Download this free guide to get started today.